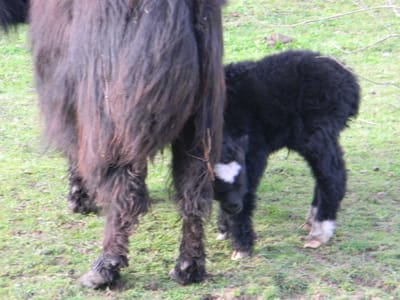 Welcome to Maple Valley Yaks of Wisconsin. We are a small family farm in southwestern Wisconsin. We have been raising yaks since 2009. We started with 4 yaks that we thought we would just keep because we really like them but now have a herd of about 50. These yaks are raised on fields of grass/alfalfa mix as well as wooded areas of grass and other browsing matter (weeds, leaves etc). We feed them mixed grass/alfalfa hay through the winter. They are not fed any corn or other grains, although we do give them a protein lick during the winter months. They are never given antibiotics or any other chemicals. The yak were processed in a State inspected facility and the meat has the Wisconsin Department of Trade and Consumer Protection stamp.

Yak meat is healthier to eat than skinless chicken and most fish. This naturally ultralean dark red meat (95% to 97% fat free overall) is very juicy due to it's high percentages of Omega 3 oils, CLA's ( Conjugated Linoleic Acids ), Oleic Acids, and Stearic Acids, (35% higher than beef as a percentage of fats that are good for us). At the same time, Yak meat is very low in Palmitic Acid which is bad for us (30% less than beef as a percentage of fats, and 120% less than beef as a percentage of meat). Yak remains higher in protein, solids, minerals, and vitamins than beef; while scoring much lower in saturated fats, cholesterol, triglycerides, and calories than beef!!
Yak meat has a delicious and delicate beef like flavor. It is very low in fat and can be easily trimmed off. It is deep red in color, high in protein, and low in calories, saturated fats, cholesterol and triglycerides.
Compared with beef, yak meat has one-sixth the fat and 40% more protein. While it is leaner and lower in calories and saturated fat than beef, it is still a moist and flavorful meat.
(source: Aboutyaks.com).